Community Profile
Learn what others know: Odessa is the best place for your business!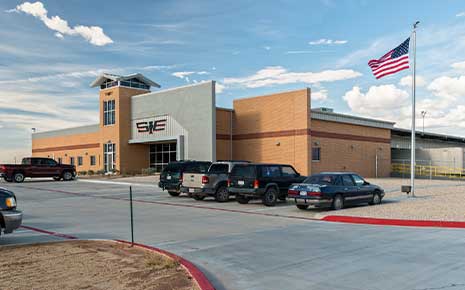 Odessa is a vibrant, growing community. Life in Odessa is not just about business. It is a community that welcomes its citizens with open arms in the business community and daily life.
Odessa has long been known for its rich resources due to its location in the Permian Basin, the largest single source of oil and gas deposits in the United States. The abundant energy combined with world-class infrastructure, a skilled workforce and a pro-business climate has proven Odessa ideal for business.
The local economy has rapidly diversified recently, with new businesses coming to the community. Today, Odessa is a focal point for product distribution for national and international companies outside the oil and gas industry.
As a result, Odessa continues to grow, with the population forecasted to exceed 215,000 by 2040. Employment forecasts 1.70% growth annually in that timeframe, creating over 37,400 net new jobs. Real personal income and retail sales are projected to increase by 3.81% and 4.13% per year, respectively. For comparison, the rate of growth for output in Texas is forecast to be 3.25% annually through 2040, with employment in the state expanding at a pace of 1.70% per year.
The outstanding cultural and recreational opportunities, healthcare facilities and ease of access to the surrounding region make Odessa the ideal place for business expansion and relocation.
Back To Top
Population
| Population | 2000 | 2010 | 2023 | 2028 |
| --- | --- | --- | --- | --- |
| Odessa, TX | 91,547 | 100,819 | 122,004 | 125,602 |
Source: ESRI, 2023-10-17
Population by Age
| Population | 2010 | 2023 | 2028 |
| --- | --- | --- | --- |
| 0-4 | 8,679 | 9,025 | 9,434 |
| 5-9 | 8,045 | 9,211 | 9,221 |
| 10-14 | 7,426 | 8,906 | 9,291 |
| 15-19 | 7,717 | 8,390 | 8,671 |
| 20-24 | 8,211 | 8,255 | 8,430 |
| 25-29 | 7,994 | 8,891 | 8,718 |
| 30-34 | 6,670 | 9,487 | 8,795 |
| 35-39 | 6,183 | 8,672 | 9,336 |
| 40-44 | 5,762 | 7,454 | 8,393 |
| 45-49 | 6,501 | 6,421 | 7,263 |
| 50-54 | 6,638 | 6,307 | 6,197 |
| 55-59 | 5,716 | 6,567 | 5,929 |
| 60-64 | 4,374 | 6,688 | 6,075 |
| 65-69 | 3,142 | 5,984 | 6,044 |
| 70-74 | 2,576 | 4,613 | 5,303 |
| 75-79 | 2,115 | 3,200 | 3,835 |
| 80-84 | 1,733 | 2,047 | 2,506 |
| 85+ | 1,336 | 1,886 | 2,161 |
| 18+ | 72,277 | 90,034 | 92,664 |
| Median Age | 32 | 34 | 35 |
Source: ESRI, 2023-10-17
Population by Race
| Odessa, TX | 2023 |
| --- | --- |
| Total | 122,004.00 |
| White Alone | 48.51 |
| Black Alone | 6.68 |
| American Indian Alone | 1.00 |
| Asian Alone | 2.40 |
| Pacific Islander Alone | 0.24 |
| Some Other Race | 18.96 |
| Two or More Races | 22.20 |
| Hispanic Origin | 56.82 |
| Diversity Index | 83.40 |
Source: ESRI, 2023-10-17
Growth Rate
| | |
| --- | --- |
| Odessa, TX | 2023 - 2028 |
| Population | 0.58% |
| Households | 0.73% |
| Families | 0.71% |
| Median Household Income | 2% |
| Per Capita Income | 2% |
Source: ESRI, 2023-10-17
Back To Top
Back To Top
Households
| Population | 2000 | 2010 | 2023 | 2028 |
| --- | --- | --- | --- | --- |
| Households | 33,945 | 36,965 | 44,047 | 45,669 |
| Housing Units | 38,294 | 40,189 | 51,068 | 52,875 |
| Owner Occupied Units | | | 27,180 | 28,523 |
| Renter Occupied Units | | | 16,867 | 17,146 |
| Vacant Units | | | 7,021 | 7,206 |
Source: ESRI, 2023-10-17
Home Value
| Odessa, TX | 2023 | 2028 |
| --- | --- | --- |
| Median Home Value | $203,709 | $253,041 |
| Average Home Value | $271,459 | $333,652 |
| <$50,000 | 1,120 | 620 |
| $50,000 - $99,999 | 4,695 | 2,419 |
| $100,000 - $149,999 | 2,292 | 976 |
| $150,000 - $199,999 | 5,106 | 4,250 |
| $200,000 - $249,999 | 5,021 | 5,815 |
| $250,000 - $299,999 | 2,069 | 2,910 |
| $300,000 - $399,999 | 3,891 | 6,867 |
| $400,000 - $499,999 | 1,091 | 1,855 |
| $500,000 - $749,999 | 900 | 1,580 |
| $1,000,000 + | 1 | 0 |
Source: ESRI, 2023-10-17
Housing Year Built
| Year Range | Houses Built |
| --- | --- |
| 2010 or Later | 6,738 |
| 2000-2009 | 3,627 |
| 1990-1999 | 4,405 |
| 1980-1989 | 5,689 |
| 1970-1979 | 7,933 |
| 1960-1969 | 4,868 |
| 1950-1959 | 10,758 |
| 1940-1949 | 1,879 |
| 1939 or Before | 530 |
Source: ESRI, 2023-10-17
Back To Top
Back To Top
Income
| Odessa, TX | 2023 | 2028 |
| --- | --- | --- |
| Median Household | $59,954 | $65,880 |
| Average Household | $84,115 | $94,421 |
| Per Capita | $30,514 | $34,473 |
Source: ESRI, 2023-10-17
Household Income Base
| Odessa, TX | 2023 |
| --- | --- |
| <$15,000 | 4,565 |
| $15,000 - $24,999 | 2,861 |
| $25,000 - $34,999 | 3,945 |
| $35,000 - $49,999 | 5,926 |
| $50,000 - $74,999 | 9,422 |
| $75,000 - $99,999 | 4,447 |
| $100,000 - $149,999 | 8,932 |
| $150,000 - $199,999 | 1,725 |
| $200,000+ | 2,224 |
Source: ESRI, 2023-10-17
Back To Top
Back To Top
Employees by NAICS
| Category | Number |
| --- | --- |
| Total Employees | 59,358 |
| Agr/Forestry/Fish/Hunt | 29 |
| Mining | 653 |
| Utilities | 26 |
| Construction | 3,885 |
| Manufacturing | 2,712 |
| Wholesale Trade | 2,702 |
| | |
| Retail Trade | 8,914 |
| Motor Veh/Parts Dealers | 1,831 |
| Furn & Home Furnish Str | 182 |
| Electronics & Appl Store | 288 |
| Bldg Matl/Garden Equip | 528 |
| Food & Beverage Stores | 1,460 |
| Health/Pers Care Stores | 584 |
| Gasoline Stations | 254 |
| Clothing/Accessory Store | 421 |
| Sports/Hobby/Book/Music | 713 |
| General Merchandise Str | 2,653 |
| Misc Store Retailers | 0 |
| Nonstore Retailers | 0 |
| | |
| Transportation/Warehouse | 1,307 |
| Information | 920 |
| | |
| Finance & Insurance | 1,617 |
| Cntrl Bank/Crdt Intrmdtn | 965 |
| Sec/Cmdty Cntrct/Oth Inv | 177 |
| Insur/Funds/Trusts/Other | 475 |
| | |
| Real Estate/Rent/Leasing | 1,381 |
| Prof/Scientific/Tech Srv | 3,970 |
| Legal Services | 484 |
| Mgmt of Comp/Enterprises | 22 |
| Admin/Support/Waste Mgmt | 436 |
| Educational Services | 8,430 |
| HealthCare/Social Assist | 6,184 |
| Arts/Entertainment/Rec | 585 |
| | |
| Accommodation/Food Srvcs | 6,771 |
| Accommodation | 1,086 |
| Food Srv/Drinking Places | 5,685 |
| | |
| Other Srv excl Pub Admin | 3,407 |
| Auto Repair/Maintenance | 898 |
| Public Administration Emp | 5,235 |
Source: ESRI, 2023-10-17
Educational Attainment (25+)
| Odessa, TX | 2023 |
| --- | --- |
| Some High School | 7,224 |
| Graduated High School | 19,013 |
| Associates Degree | 7,593 |
| Bachelor's Degree | 12,485 |
| Graduate Degree | 4,954 |
Source: ESRI, 2023-10-17
Back To Top
Back To Top
Businesses by NAICS
| Category | Number |
| --- | --- |
| Total Businesses | 4,274 |
| Agr/Forestry/Fish/Hunt Bus | 9 |
| Mining Bus | 38 |
| Utilities Bus | 4 |
| Construction Bus | 256 |
| Manufacturing Bus | 157 |
| Wholesale Trade Bus | 222 |
|   |   |
| Retail Trade Bus | 664 |
| Motor Veh/Parts Dealers Bus | 100 |
| Furn & Home Furnish Str Bus | 26 |
| Electronics & Appl Store Bus | 32 |
| Bldg Matl/Garden Equip Bus | 39 |
| Food & Beverage Stores Bus | 79 |
| Health/Pers Care Stores Bus | 71 |
| Gasoline Stations Bus | 50 |
| Clothing/Accessory Store Bus | 87 |
| Sports/Hobby/Book/Music Bus | 91 |
| General Merchandise Str Bus | 89 |
| Misc Store Retailers Bus | 0 |
| Nonstore Retailers Bus | 0 |
|   |   |
| Transportation/Warehouse Bus | 104 |
| Information Bus | 71 |
|   |   |
| Finance & Insurance Bus | 269 |
| Cntrl Bank/Crdt Intrmdtn Bus | 130 |
| Sec/Cmdty Cntrct/Oth Inv Bus | 36 |
| Insur/Funds/Trusts/Other Bus | 103 |
|   |   |
| Real Estate/Rent/Leasing Bus | 258 |
| Prof/Scientific/Tech Srv Bus | 349 |
| Legal Services Bus | 99 |
| Mgmt of Comp/Enterprises Bus | 4 |
| Admin/Support/Waste Mgmt Bus | 78 |
| Educational Services Bus | 76 |
| HealthCare/Social Assist Bus | 440 |
| Arts/Entertainment/Rec Bus | 67 |
|   |   |
| Accommodation/Food Srvcs Bus | 399 |
| Accommodation Bus | 66 |
| Food Srv/Drinking Places Bus | 333 |
|   |   |
| Other Srv excl Pub Admin Bus | 502 |
| Auto Repair/Maintenance Bus | 116 |
| Public Administration Bus | 87 |
Source: ESRI, 2023-10-17
Back To Top